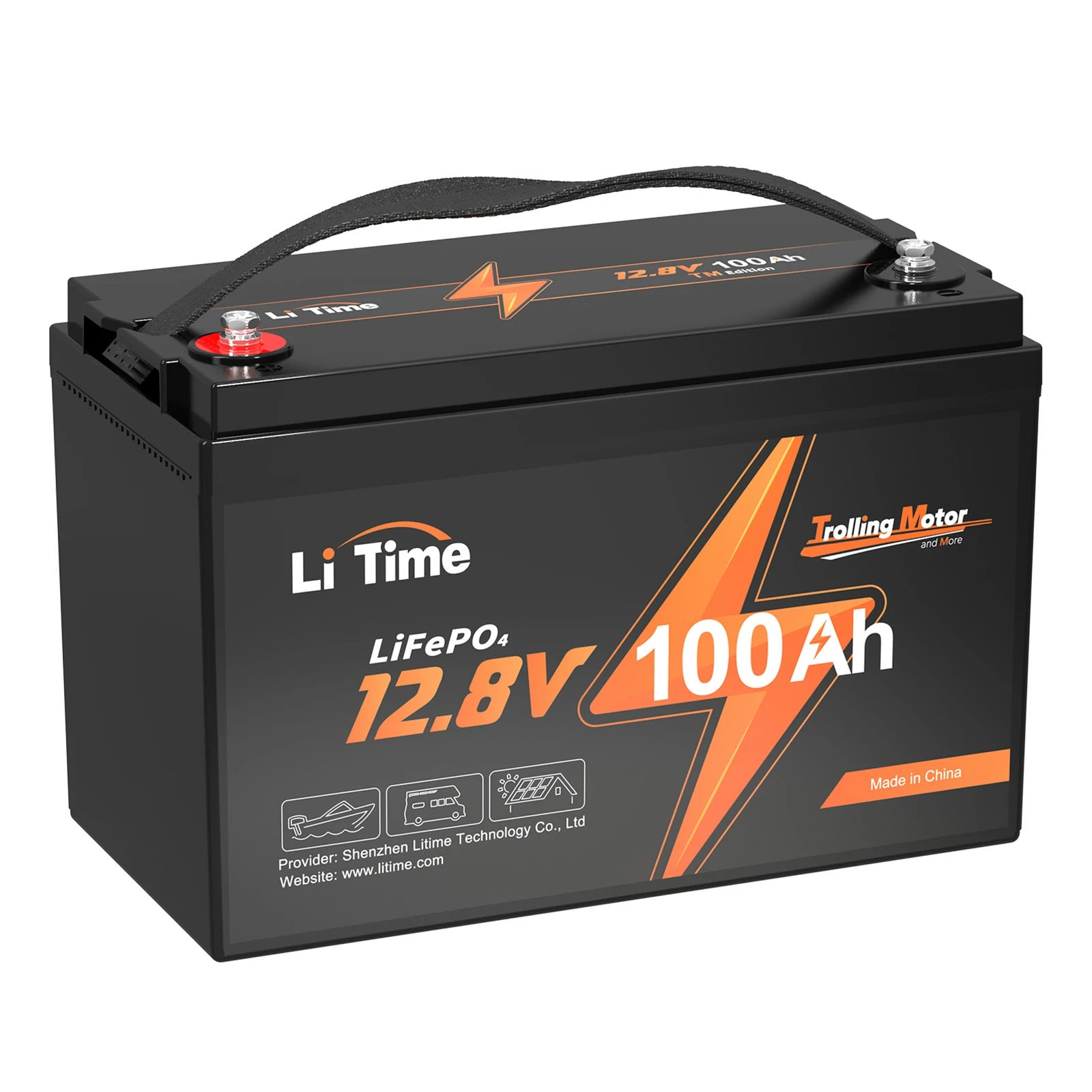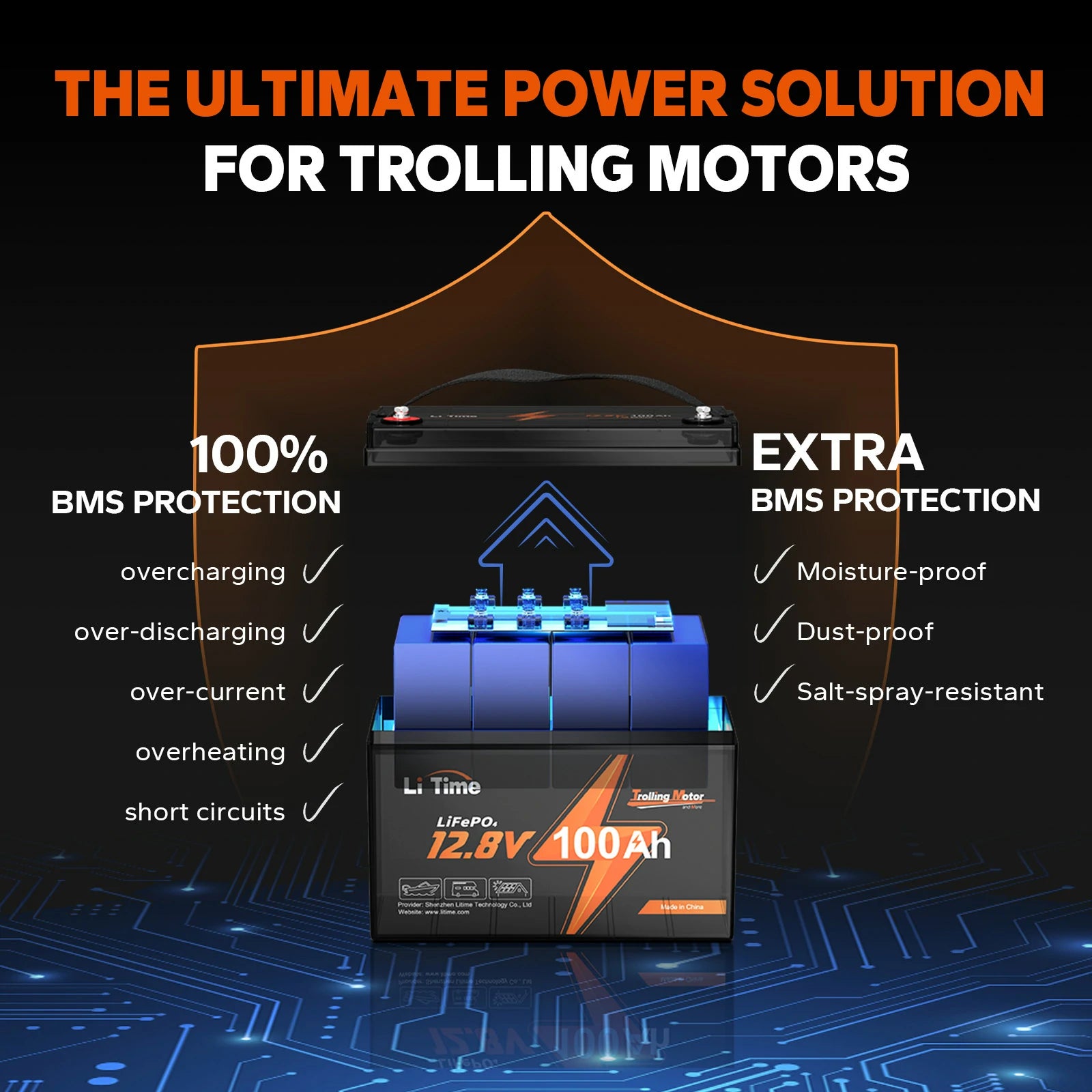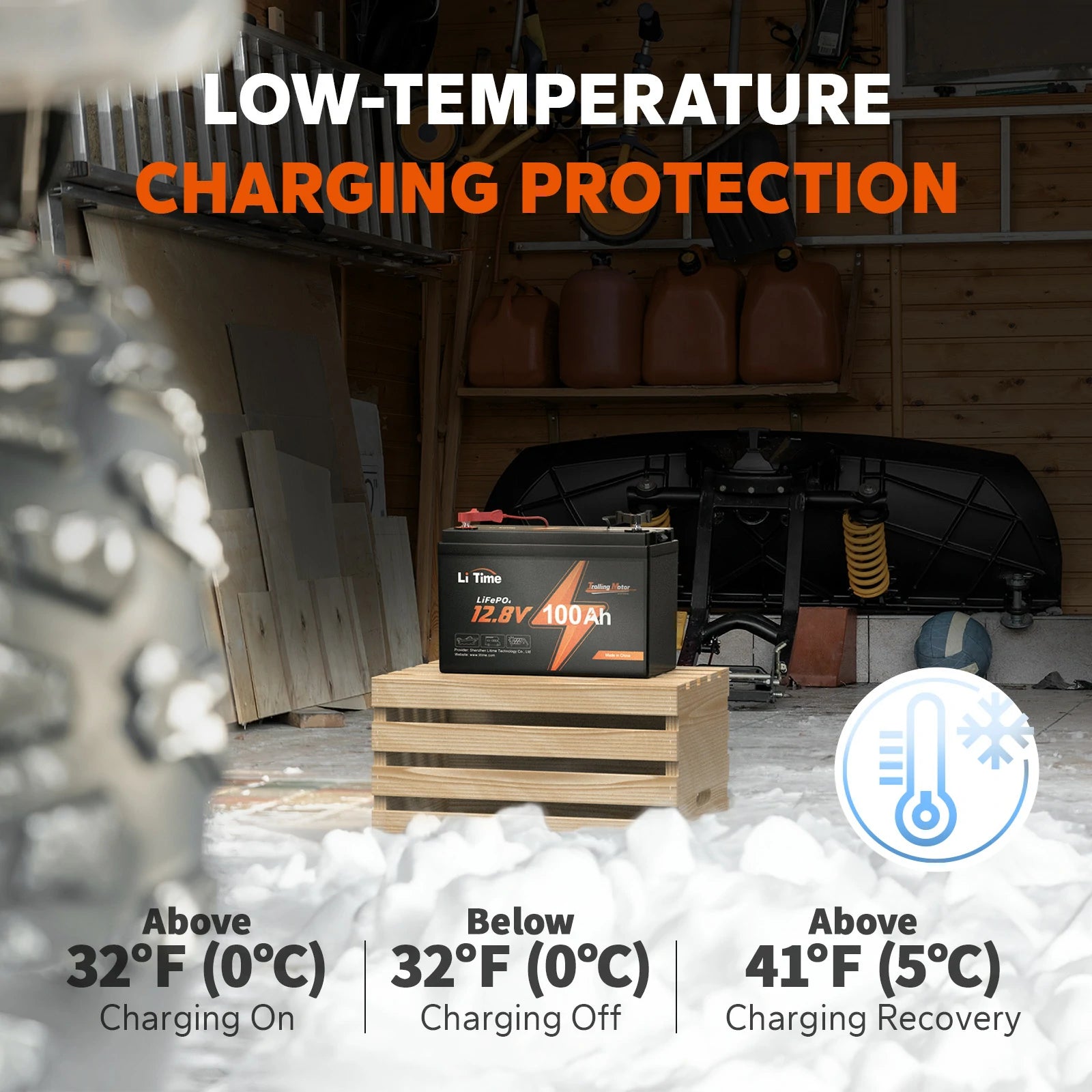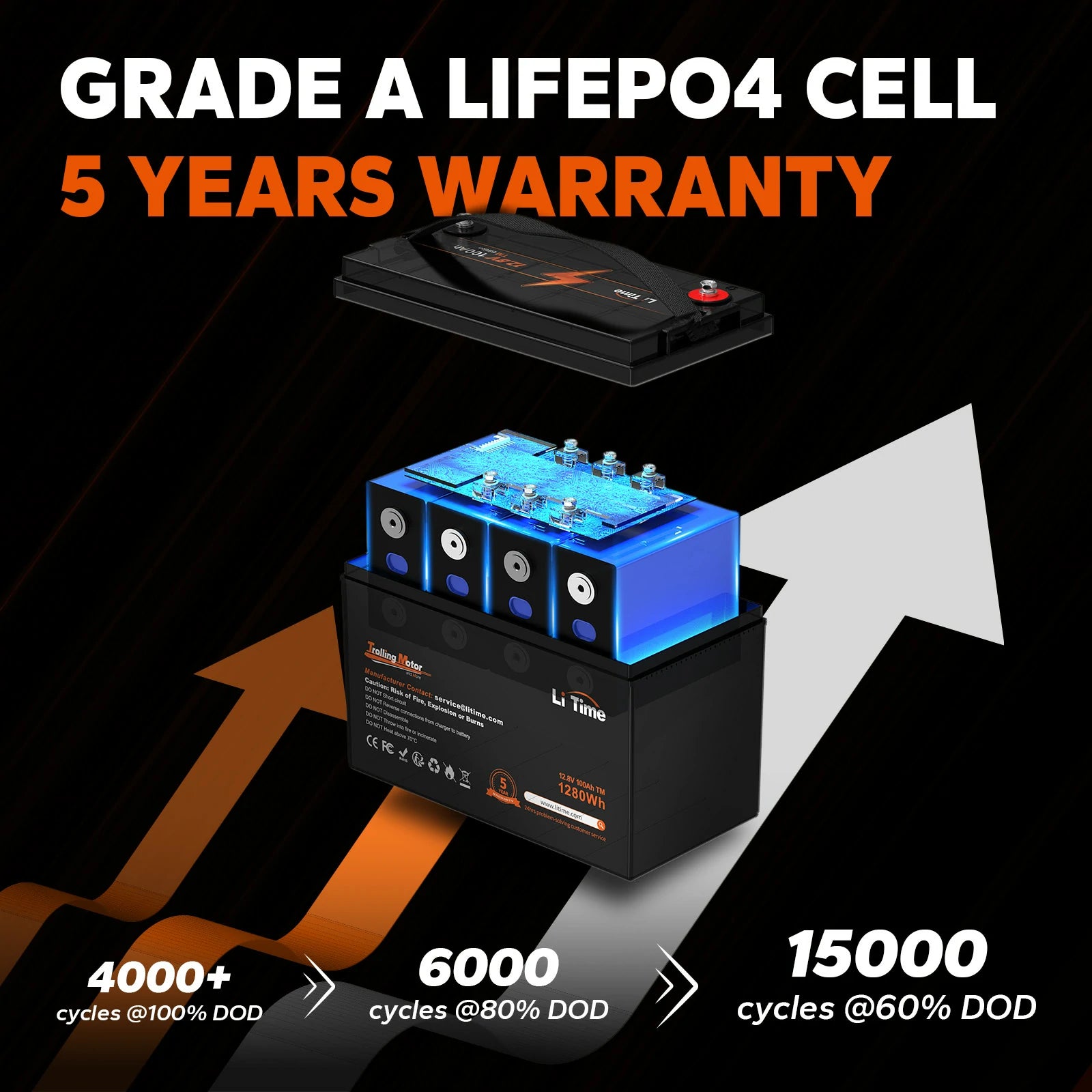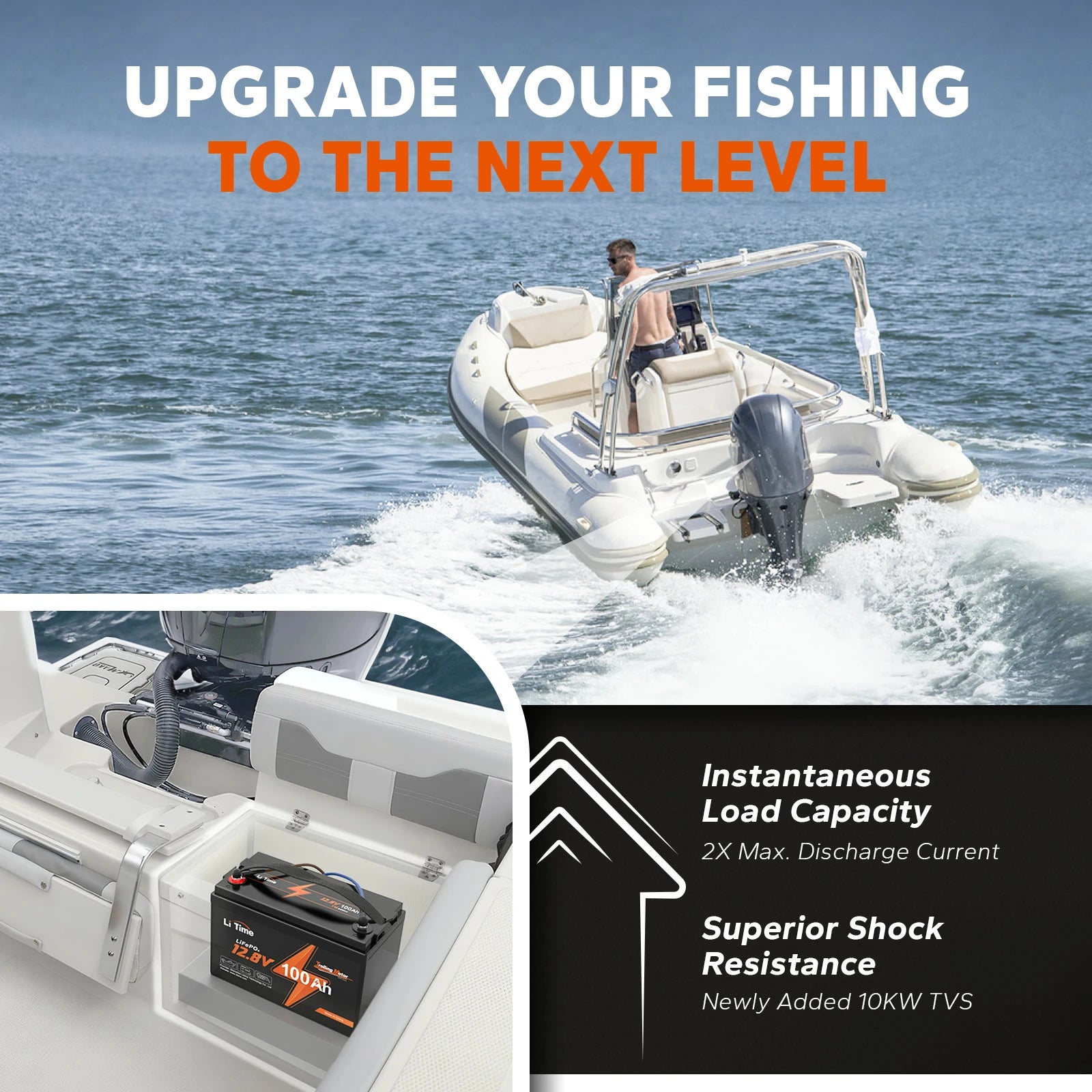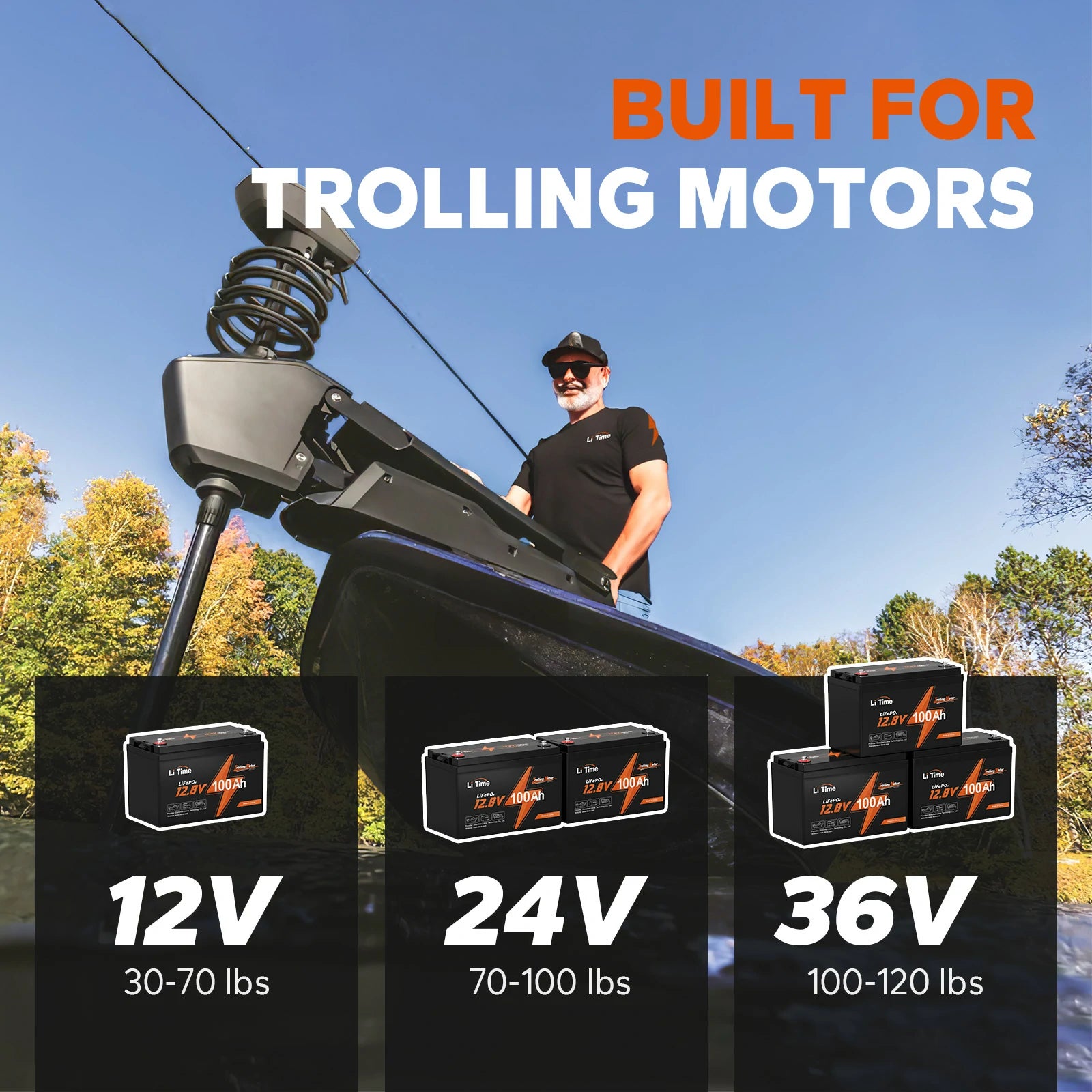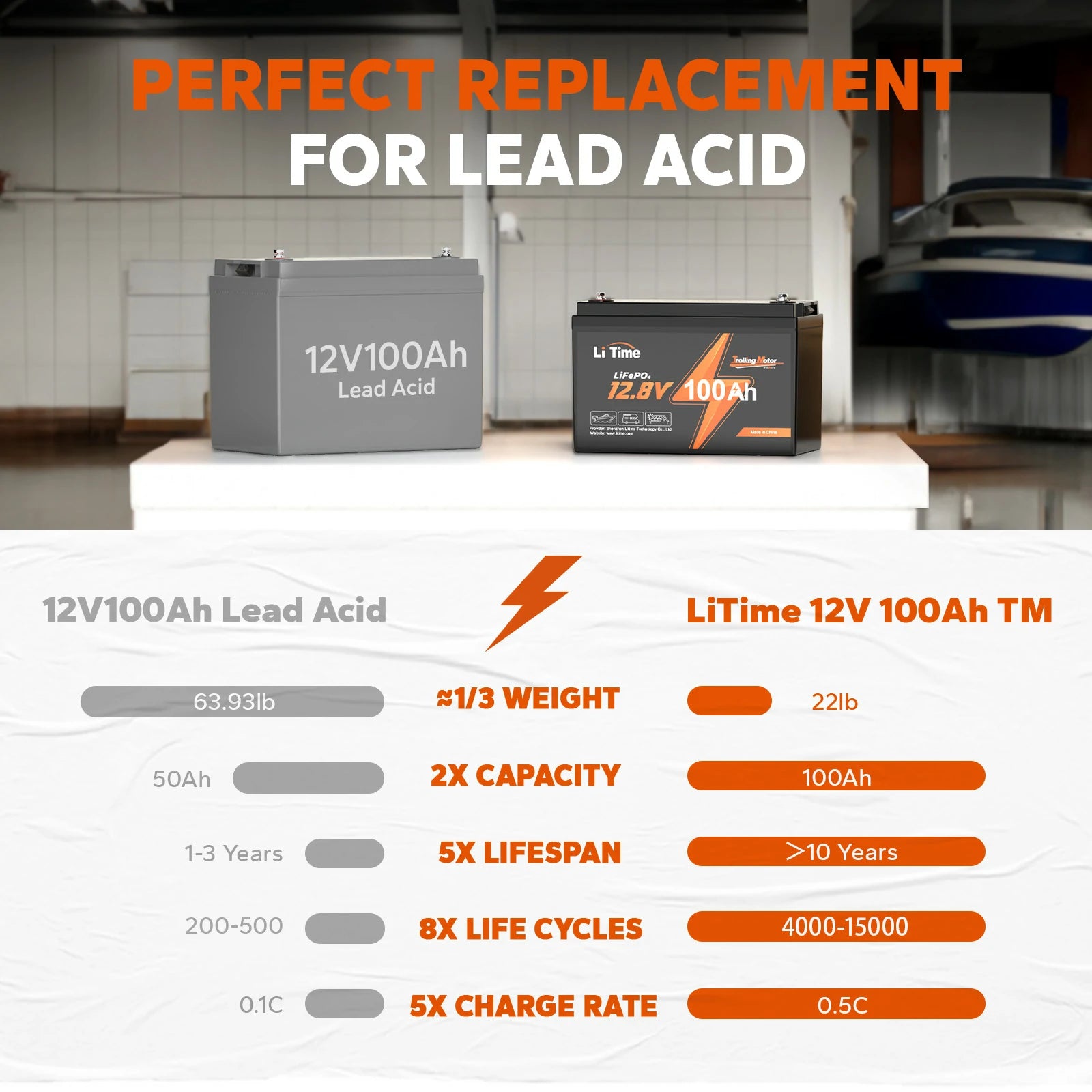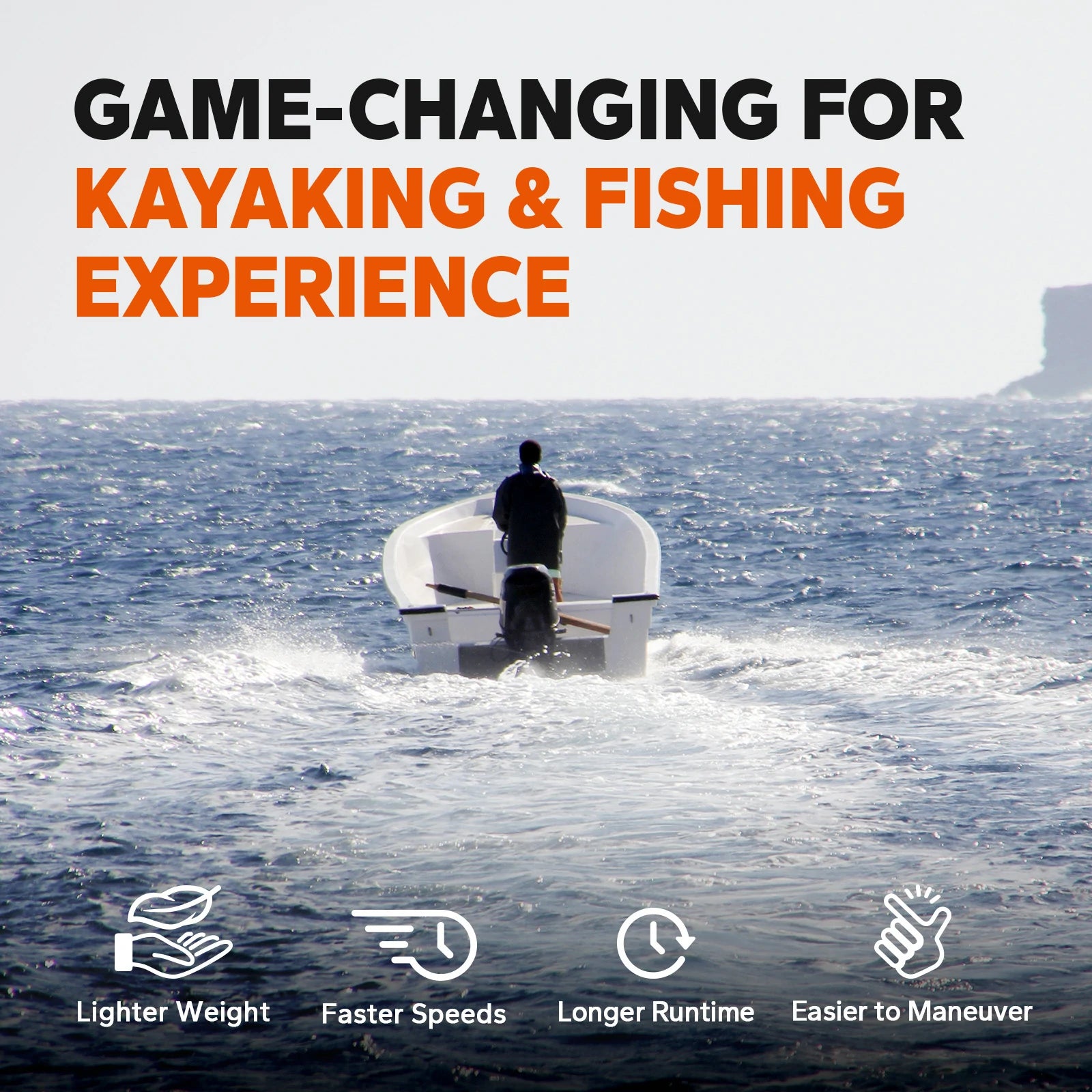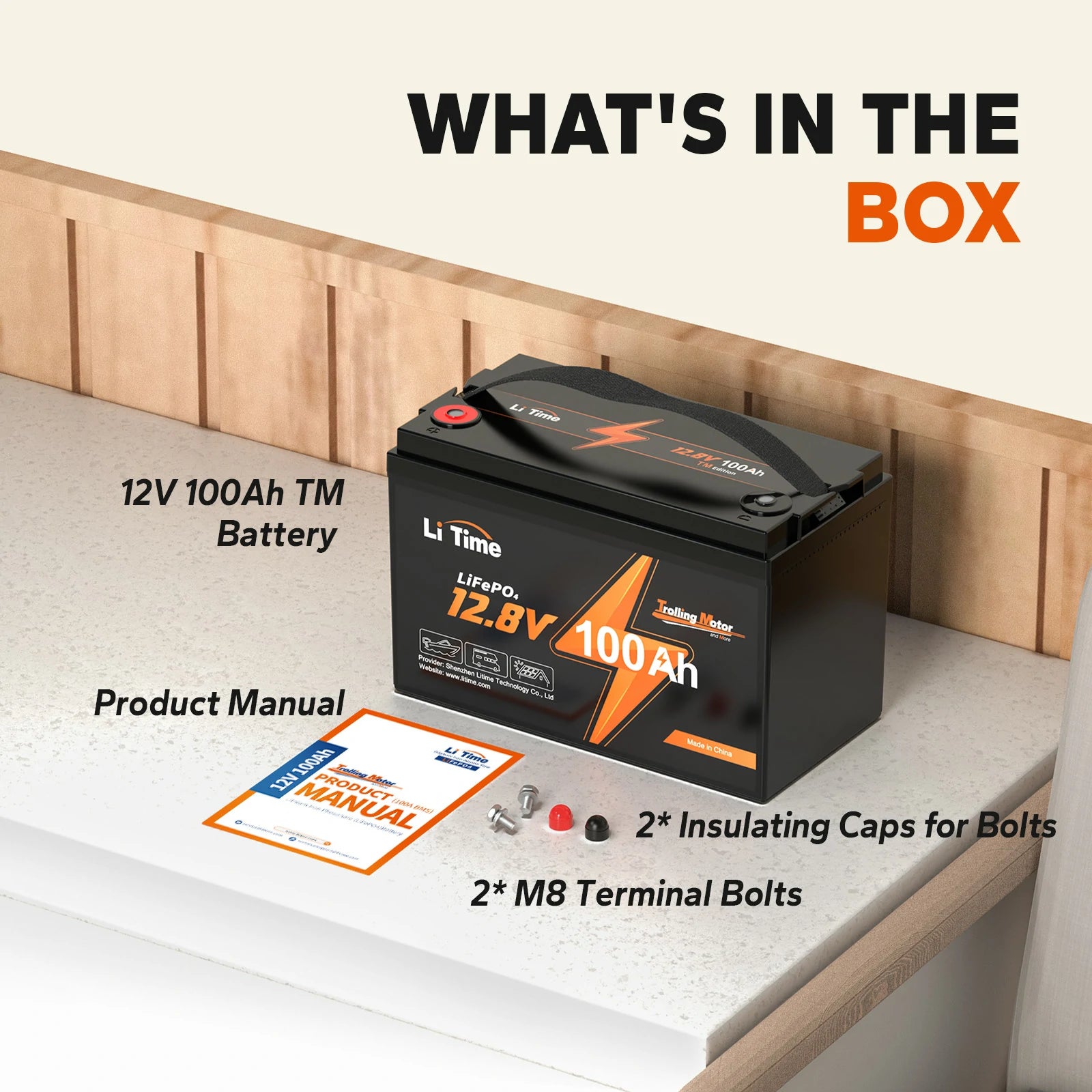 [Pre Order]LiTime 12V 100Ah TM LiFePO4 Battery, Low-Temp Protection for Trolling Motors
This product is in the pre-sale stage and will start shipping on October 5th.
New arrivals, Automatic Discounts - No Manual Input Required!
Please hurry! Only 1 left in stock
Free Shipping
Free standard shipping on all orders
Estimated to be delivered within 2-7 business days.
5 Year Warranty
Backed up by techical support within 24hrs.
Free Returns
30 Days Hassle Free Returns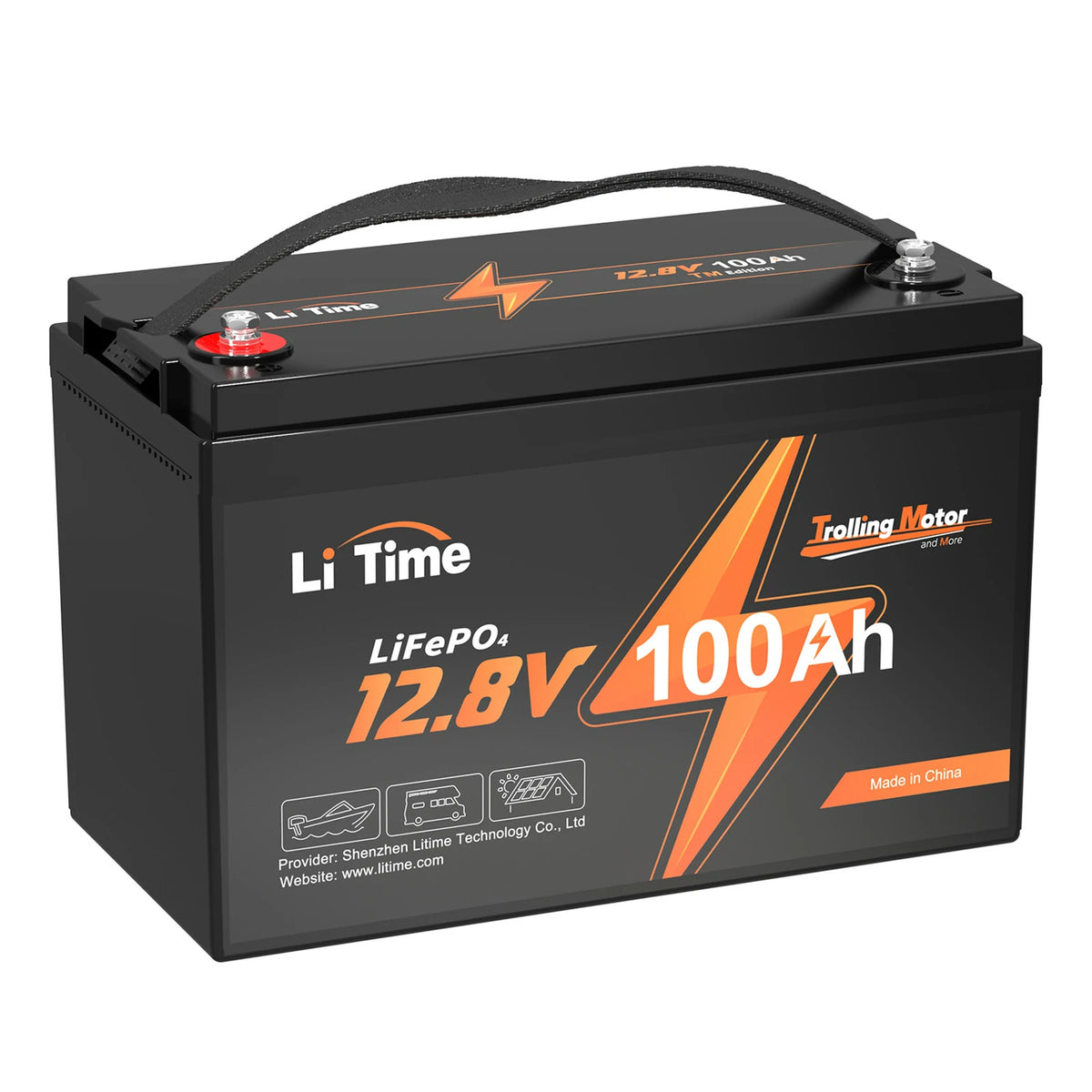 [Pre Order]LiTime 12V 100Ah TM LiFePO4 Battery, Low-Temp Protection for Trolling Motors
A True User-Driven Innovation!
This 12V 100Ah TM LiFePO4 deep cycle battery is a real user-driven innovation, began with 30000+ user research to identify the needs and preferences of our customers in the marine field. From there, our R&D team of experts utilized cutting-edge technology and advanced materials to make it happen: Innovative upgrades provide increased instantaneous load capacity and improved shock resistance, ensuring reliable performance for your trolling motors even in rough waters. It's upgraded for trolling motors, but ready for more adventures.
All-Round Upgraded BMS
Designed for harsh environments such as rainy or coastal areas, or dusty and wet conditions, the 12V 100Ah TM LiFePO4 deep cycle battery offers worry-free and long-lasting performance with a reduced risk of damage and an extended lifespan.
Ultra-Long Battery Lifespan
Built with the safest LiFePO4 battery technology, the 12V 100Ah TM battery boasts exceptional durability and a longer lifespan, with an impressive 4000+ cycles for a 10-year lifespan. Coupled with an intelligent BMS, it operates efficiently while ensuring safety and reliability.
Upgrade Your Fishing to the Next Level
The 12V 100Ah TM LiFePO4 deep cycle battery supports a max discharge current for 5 seconds up to 300A to 500A, providing rapid and reliable power delivery for smoother and more precise control of your trolling motor. With its upgraded ability to handle sudden and heavy loads, you can reach your destination faster or catch fish more efficiently, giving you ultimate control over your boat.
Low-Temperature Cuttingoff Protection
Maximize your battery life and charging efficiency with the low-temperature charging cutoff protection - keeping you safe and powered up even in the coldest conditions.
20.48KWH MASSIVE POWER EXPANSION
Add on up to 16* 12V 100Ah TM LiFePO4 batteries for an extended trip, a boost from 1280Wh to 20480Wh! The battery goes beyond trolling motors and is also ideal for RVs, solar homes, and home energy backup.
Ultimate Replacement for Lead Acid
At just 23.4 lbs, the 12V 100Ah TM LiFePO4 battery is approx. 1/5 the weight of a 12V 200Ah lead acid battery (about 130lbs), but equivalent in energy, which is easier to carry, faster to charge, and more convenient to use.
3 Ways to Recharge
Never miss a beat with this 12V 100Ah TM deep cycle LiFePO4 battery's ultra-fast recharge speed! It's easily rechargeable with multiple options, including the LiFePO4 battery charger, solar panel, or generator, so you can power up easily!
Build for Trolling Motors, Ready for More Adventures